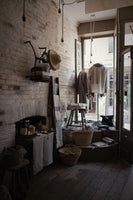 W&W
Founded in 2010 and set within Hastings Old Town conservation area, Warp & Weft is a boutique and atelier housed in a restored Victorian building. The concept was to create an all-enveloping, perfumed creative space, the layered interiors serve as a backdrop to the meticulously designed and sourced textiles, objects, accessories, men's and women's clothing and made-to-order service.
Warp & Weft online is currently a work in progress so please come visit us at our beautiful shop. Warp & Weft is continuously evolving and here in our Hastings shop we showcase our collections and the beautiful accessories and jewellery we have painstakingly curated for your convenience.
We look forward to seeing you!
Leida, The Curator
Blessed with boundless creative energy and an unwavering vision, Leida Nassir-Pour the founder and driving force behind Warp & Weft, draws on her ability to source the most beautiful textiles and objects from around the world. Effortlessly combining her love of surface texture, her art education and her mixed cultural heritage, she has created through sheer bloody determination a truly inspiring, ever evolving, uncompromising tour de force.
Leida cares deeply about the sustainability and authenticity of the items she selects and produces for the store. She collaborates directly with her overseas cottage industry suppliers, who use only natural raw materials and where ever possible her production process has a minimal carbon footprint by working with local makers and producing her own clothing label on site.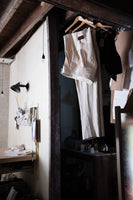 Made to Order
Through years of experience Warp & Weft clothing has evolved into a unique "Made to Order" range of modifiable styles to fit all body shapes. By offering clients a wide choice of options and avoiding any over production, the collection of men's and women's prototype garments in calico and canvas can be adapted to achieve a personalised fit. The team will help to match the best fabric to your favourite styles as well as advising on shape.
Leida the head designer, is determined that clients have a shared investment in the development of their garments by allowing enough time to enjoy the process and achieve the very best custom-made results, this will lay the foundations of a capsule wardrobe for years to come.
It's not about how much you own but the quality and integrity of what you own.
Email shop@warpandweftoldtown.com to book a consultation with Leida. 
Read More
Brett, The Head Tailor
Brett Isherwood, born in the wrong century, has no time for throw away fashion or synthetic fibres. With years of experience in his craft, he is determined that Warp & Wefts garments, if respected and cared for, will last a very long time and wear beautifully with age. Before joining the team he had his own successful custom-made traditional shirt company and was busy with collaborations and private commissions.
He shares with Leida a passion for bygone styles. Their combined knowledge of vintage detailing and quality workmanship has allowed them to develop and expand the Warp & Weft "Made to Order" clothing label. Unconcerned by faddy trends and unconstrained by commercial pressures, the pair are free to exercise their design skills and love of natural materials to create a truly unique contemporary style.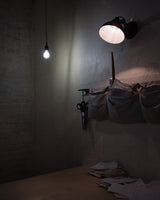 Bespoke Tailoring
Warp & Weft offer a fully bespoke made to measure tailoring service.
On occasion the alterations required to the "Made to Order" garments can be a tad too extensive and it is advisable to draft a new prototype that is unique to your body shape or personal preference, or you may have a totally new idea you would like to develop.
There is an initial, relatively accessible investment required for this service, as it is essential that a toile is produced and further fittings are likely, but what you will achieve is a perfectly shaped garment that can be reproduced as many times as you wish in various fabrics, offsetting the initial development costs. 
Brett and Leida will guide you through the process and help you to achieve the very best results.
Email shop@warpandweftoldtown.com to book a consultation
Read More
Homeware
Leida's meticulously designed and selected vintage, antique and contemporary home-wear collection has been ethically and sustainably sourced. Whilst drawing on her own mixed heritage and her love of travel, Leida has a natural feeling for developing and finding beautiful textiles and an eagle eye for hand crafted objects. Many of the pieces are rare finds or one off originals. In keeping with her stores interior concept, her home-wear reflects her disciplined pallet and love of rustic finishing and natural tones.
Location
Our store
68a George Street, Old Town Hastings 
UK TN34 3EE
01424 437180
Mon - Fri, 11am - 4pm
Saturday, 10.30am - 5pm
Sunday, 11am - 5pm